Brazil Food


Brazil food and drink
Brazil's cuisine is interesting, to say the least. The country's long history of immigration and wide cultural diversity across its regions has served to widen the range and variety of Brazilian foods.

  Cornmeal Food Products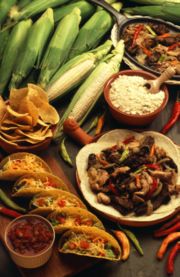 In this sense it is hard to generalize about Brazilian food, staple, mainly because there is no one single national Brazilian cuisine that distinguish it, but numerous very distinct regional ones, as you will discover on your Brazil travel northeast.
Brasilian food mirror the variety and mix of its people, with influences from the indigenous people of Brazil, the Portuguese, African and Italian people, to name but a few.
It is this ethnic make up that has largely influenced Brazilian foods preferences across Brasil, culminating in foods of different cultures being adapted over time to suit regional tastes as it exists today.


Brazil food in the north east for instance, has a strong Afro- Brazilian slant (the legacy of African slave people), with seafood being a very popular and widely used food staple in Brazil cuisine. Typical, popular Brasil foods in this region include dishes such as fish stew; brown beans and dried shrimp fritters. Being a coastal region, excellent seafood can be found in many of the north east towns.
Other Brazil popular foods include beautifully flavoured dishes such as tacacá - which is a spicy soup; pato no tucupi - a spiced duck dish; and vatapa - a seafood dish in a thick, rich sauce. A particular favourite home-made food in brazil is feijoada, which is a rich stew consisting of pork ears, chops, knuckles and strips of dried beef and black beans; usually served with rice.
Don't imagine however that the choice of food in Brazil is limited to the more traditional Brasilian cuisine. There is on offer, a very wide range of different Brazil food to suit almost every nationality and include Brazil fast food outlets, Brazil restaurants that serve foods to suit the European palate etc.,
Snacking food of Brazil
Brazil food snacks are known as - lanches, which are in the main a variety of different pastries. Food snacks can literally be found at Brazil fast food outlets everywhere. Look out for Brazil bakeries or lanchonete. Bakeries - padarias, can be best described as cafe-type bars that provide small cheap snack food and drinks, while a lanchonete will provide a bit more variety.


  Empadinha Snack Food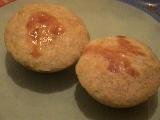 Choices include deep-fried, coated ground chicken balls - coxinha stuffed pastries - empadinha; fried heart of palm - palmito; small spiced meat, or shrimp-filled, fried pasties or pastries.





Brazil Fruit Choices
                                                  Pineapple Fruit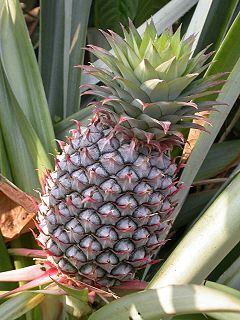 On your Brazil travel northeast, you will discover an exotic supply of fresh fruit and vegetables is plentiful in Brasil.
These are widely available from Brazil food markets, along with numerous food spices. You will be familiar with many of the fruit on offer, which will include mango - manga, lemon/lime, passion fruit, coconut, alongside many other native Brazil fruit such as the much talked about - açaí and the exceptionally delicious cupuaçú.







  Passion Fruit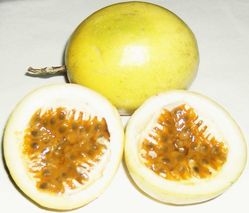 If you are travelling with young children, then the ways in which Brazilian people use fruit, should make things easier for you since fresh fruit is the primary ingredient in all Brazil recipes for juices and ice cream.
In addition to the famous Brazilian coffee, fresh fruit juices are extremely popular in Brazil. You will find numerous juice bars, serving everything from orange juice - suco de laranja and banana-based drinks to passion fruit; the exotic cashew fruit and the delicious, powerful anti-oxidant super food drink from the Amazon - Açai.



Brazil drinks and beverages
                                               Acai Juice Serving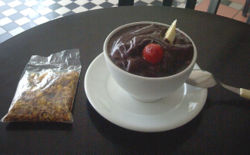 Brazilians have mastered the art of juicing, so be adventurous in sampling some of the Brazil juice recipes.
And of course, there is the delicious coconut water -agua de coco, especially thirst quenching on hot, relaxing days on Brazil beaches. The well-known favourite, coke - coca-cola is also widely available. An alternative carbonated soft drink, made from a native Amazonian berry is guarana.
Tea - chá is also available in the Earl Gray and green tea varieties, from specialised tea shops or cafes. Or perhaps you might want to sample the Brazilian variety, - mate, which is a caffeine-packed and is often served chilled across Brazil.
If you are looking for something with a bit more kick, you simply have to try Caipirinha, Brazil's national drink - made with lime, sugar and cachaça but take heed - it packs a pretty punch.



Some More Interesting Brazilian Food Articles And Resources
Ethnic Brazilian Food and Drink
Brazil food is a mixture of numerous ethnic cuisines, the influence of which you will clearly see on your Brazil travel northeast. Here are some of Brazil's popular food and drinks, snacks...
Cafe Bars, Vegetarian And Fast Foods In Brazil
Food in Brazil - where are the best places to eat? From cafe snack bars, restaurants, Brazil fast food street vendors to popular food chain selling pizzas, burgers, hot dogs etc., As for vegetarian or vegan cuisine...
Types Of Brazilian Restaurants
Brasil restaurants are not only a pleasure but offer excellent value for money. Eat as much as you want, self-service restaurants in Brazil are great for meat eaters, while for vegetarians, Brasil restaurants such as...
Brazil Ethnic Restaurants
Brazil restaurant of individual ethnic groups are plentiful on your Brazil travel northeast. Ethnic food restaurants include Japanese, Italian, Arab, Lebanese, Chinese, among others. Restaurants in Brasil are relatively...
Tipping Restaurants In Brazil
Restaurants in Brazil - tipping in Brazil restaurants. When and why it is good practice to offer tips. Plus, a good restaurant tip for your Brazil travel northeast
Popular Foods In Brazil
Brazil popular foods is a mix of dishes from five main cuisine regions. Numerous unique dishes ranging from Brazil fast foods to to some of the most substantial, popular food in Brazil
Restaurants Brazil - What Will It Cost You?
Restaurants brazil - the cost of eating in Brazil Restaurants is considerably cheap, compared to Europe and many other holiday destinations. A substantial meal at a restaurant in Brazil will set you back...
Brasil food health
Guide on food safety precautions you should observe on your Brazil travel northeast. Protect your health with these food health facts, including fast food health risks...


Return From Brazil Food To Brazil Travel Northeast Home Page