Maps Of Brazil
Brazillian Flags



Maps Of Brazil - Northeast Cities/Regions
For easy reference, here are the cities and regions to help you plan your Brazil travel northeast. There is also a list of all the areas in northeast Brasil in the order they appear on the Brazil map.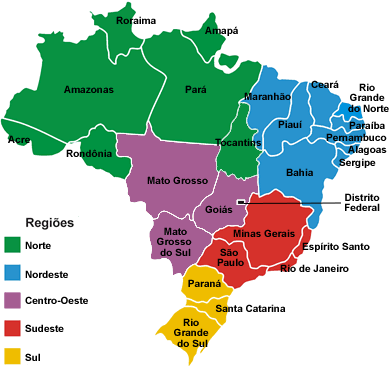 The Brazil map of Brazilian territories and of Brazil northeast also include the islands of Sao Pedro and Sao Paulo Fernando de Noronha Trinade and Martin Vaz.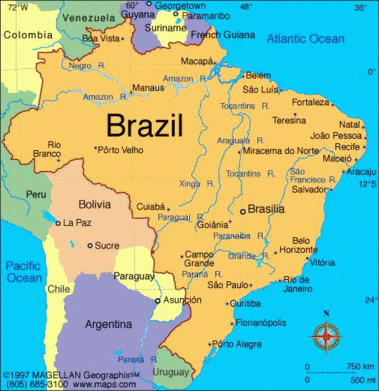 North East Regions And Places Of Interest
The following list give the names of all the towns and areas in the same order as cited on the Map.
Belem

Sao Luis

Fernando de Noronha

Fortaleza

Jao Pessoa

Olinda

Recife

Maceio

Porto Galinhas

Aracaju

Salvador

Ilheus

Porto Seguire

Ouro Preto

Vitoria

Buzios

Rio de Janeiro

Sao Sebastiao

Santos

Curitiba

Joinville

Blumenau

Florianopolis

Camboriu

Porto Alegre

Sao Paulo

Manus



Whether you're looking to learn more about Brazil, or to travel Brazil northeast coast and its regions or even to explore the best Brazil beaches and Brasil's many other natural resources, getting hold of some good local and national Brazil maps is highly recommended.
Reference: Maps - courtesy of Wikipedia



More Maps Of Brasil And Other Related Resources
Brazil Maps
Physical maps of Brazil map showing Brazil territories and the countries bodering Brasil and providing easy reference for Brazil travel northeast
Quality Brazilian Maps
Especially good Brazil Maps can be difficult to find.Here are some key points on the types of Brasil maps and how to choose a quality Brazil map for your Brazil travel northeast
Brazil's Geography
The Brazil geography and territory is extensive, consisting of 27 states, of which 9 are in the Brasil North East...
Access the Brazil Flag here
You might also be interested in learning more about the Brazilian Flag
Brazil Flag
The Brazilian Flag plus flags and Emblems of Brazil's Regions and States Here


Return From Maps Of Brazil To Brazil Travel Northeast Home Page