Brazil Geography



Brazil geography and Brazil travel northeast
Brazil is officially named the Federative Republic of Brazil which translate in Portuguese as: Brasil or Republica Federativa do Brasil.
As you will see from the map of Brazil, with the exception of Ecuador and Chile, Brazil borders all the other South American countries of Venezuela, Suriname, Guyana and the department of French Guiana to the north, Uruguay to the south, Argentina and Paraguay to the southwest, Bolivia and Peru to the west, and Colombia to the northwest. Brazil also border the the Atlantic Ocean.
As well as being the most populous country in South America, Brazil is also the fifth largest country in the world, behind Russia, Canada, The People's Republic of China and the United States, occupying approximately half of South America.



Geography of Brazil - Regional
There are 5 geographic regions of Brazil. These are:
  Map Of Brazil Regions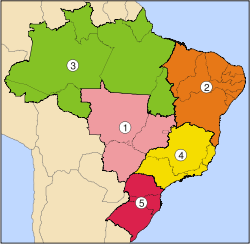 Northeast   (Nordeste)
North   (Norte)
Southeast   (Sudeste)
South   (Sul)
Central-West  (Centro-   Oeste)
All of the above five regions of Brazil collectively consist of 26 states and one Federal District. These states are in turn divided into municipalities and from municipalities into districts.
  Map Of Brazil's States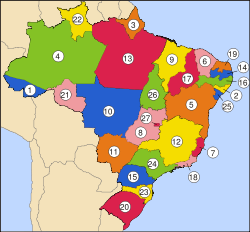 Brazil geography and Brazil territory
The geography of Brazil position it as the easternmost country of the Americas, with the Brazil territory covering 8,514,876.599 km2 between central South America and the Atlantic Ocean. Brazil's geography don't end there because its territory also includes a number of islands located in the Atlantic Ocean.
These include the archipelago of Fernando de Noronha, which is located northeast of Brasil, in addition to other smaller islands and atolls such as, Abrolhos, Atol das Rocas, Penedos de Sao Pedro e Sao Paulo, Trindade and Martim Vaz.
As you can see, the Northeast is a vast area. On your Brazil travel northeast, be sure to explore as many of its coastal states, towns and attractions as you can.

Brazil Maps
Physical maps of Brazil map showing Brazil territories and the countries bodering Brasil and providing easy reference for Brazil travel northeast
Maps of Brazil
A useful resource showing maps of brazil states and regions, brazil map etc., for brazil travel northeast plus helping you to explore Brasil's attractions, brazil beaches and more...
Quality Brazilian Maps
Especially good Brazil Maps can be difficult to find.Here are some key points on the types of Brasil maps and how to choose a quality Brazil map for your Brazil travel northeast
Access the Brazil Flag here
You might also be interested in learning more about the Brazilian Flag
Brazil Flag
The Brazilian Flag plus flags and Emblems of Brazil's Regions and States Here
Return From Brazil Geography To Brazil Travel Northeast Home Page