Rio Grande do Norte - Natal Brazil

Natal, the City and the State of Rio Grande do Norte, lies on the Atlantic ocean, at the mouth of the Potengi river.
The population of Natal is estimated to be in the region of three quarter of a million. Not only is its main industry tourism, Natal is a major tourist destination and is considered to be the safest capital city in Brazil.


Known as the "City of the Sun", owing to its beautiful sun-drenched beaches and its mild climate, Natal is truly a sun and beach-seeker's paradise. Brazil's natal is home to numerous semi-virgin beaches. Popular destinations in Brasil's Natal include Pipa beach, Pirangi and Baretta.
Pipa in particular is growing increasingly more popular with Brazilian people as well as international tourists.
Visited Natal Brazil recently? Or are you planning on travelling to Natal in the near future? Then our visitors would love you to share your Natal holiday or Natal beach experience! Submit your Natal vacation Story here!







Genipabu Beach Natal Rio Grande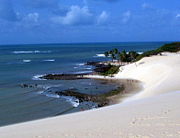 On your Brazil travel northeast, you will enjoy dozens of natal's white sandy beaches, such as Ponta Negra and its famous Morro do Careca, Pirangi, Baretta, Redinha, and Genipabu beaches, to name but a few.
Yet there is so much more to Rio Grande do Norte's Natal than its beaches. Natal ooze a certain magic that has been influenced in part by its history. From its multi-cultraism and racial diversity; its people's cultral customs and traditions; to its own art forms including music, dance carnival etc.,
Not forgetting Natal's culinary delights, Brazil's Natal is known for its fresh seafood, check out the quaint fishing village of Touros or dine at one of its many other beachfront restaurants. Then round off your meal with Natal's tropical fruit such as Guavas and mangos - and of course, let's not forget the cashew nuts.
When you travel to Brazil northeast's Natal, you will experience a combination of both a modern city, yet within a peaceful and tranquil setting.
What makes Natal Brazil special for you? Brazil travel northeast would love to hear all about your time in Natal. It is really quick and easy! Simply fill in the Invitation Form below to start sharing your holiday story. You don't need to register, login, leave your email or even your name! You can even upload a picture in support of your Natal Beach Story etc..
Brazil Travel Northeast will even provide a section for other visitors to this web site to comment on your travel story or picture of Brazil. Go ahead - have your say!
Care To Share Your Natal Brazil Beach Exploits Or Story?
We would love to hear about your top favourite Natal Brazil beach or your Natal travel story and why you think it is the best. What has made your brazil holiday memorable! Go ahead - we are dying to know!




Quality Hotels In Natal



Climate in Natal Brazil
Year-round sunshine is the norm in Natal, with the average temperatures being in the region of 24 degrees celcius.
In addition to glorious Brazilian weather, fantastic beaches, excellent food, warm and welcoming people of Natal, it is hardly surprising that Natal is experiencing massive increase in tourism, making Natal Brazil a magnet for property and real estate investments worldwide.
More information on Brazil's Rio Grande do Norte and Natal


Return From Natal Brazil To Brazil Travel Northeast Home Page