Brazil Beach



Brazil Beach - Ponta Negra
Ponta Negra beach Brazil is the most widely known and popular of beaches in Brazil.
Considered by many to be the best beach in Brazil city of Natal, Ponta Negra is located approximately 10km away from town along the southern end of the Via Costeira highway.
This major highway links the Ponta Negra beach area with the urban beaches of Praia do Meio, Praia dos Artistas and Praia do Forte beaches.
Apart from being the easiest southern beach to visit from Natal Ponta Negra Brazil beach is on par with Bahia's most exotic - Morro de São Paulo beach. Ponta Negra is truly a magnificent specimen of what a beach in Brazil is all about. With a large crescent-shape; steep sandy cliffs; a beautiful long bay that receive shelter from the crashing waves from the Atlantic, it is easy to see just why Ponta Negra beach Brazil is such a huge attraction.
Ponta Negra beach is quite lively and can seem like a never ending party. The area is small which is a plus point because you will never have to walk far to the nearest bar, restaurant or shopping gallery. The nightlife is a buzzing and lively affair and there are numerous bars and restaurants that serve food and drink throughout the day and night. These range from trendy beach shacks to upmarket seafood restaurants.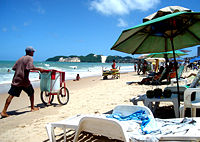 Although Ponta Negra Brasil beach can get very crowded on account of being such a popular beach in Brazil, you will find an abundant supply of lodgings, hotels and guesthouse accommodation on offer; which is also handy just in case you get carried away and find it difficult to get a bus back to Natal for the night.
There is a regular bus service that run from both the local bus station and from the seafront. A bus from Natal rodoviaria - bus station to Pirangi do Norte, approximately 30km out of town will probably be the most direct route. Taxis are available relatively inexpensively or alternatively.
Do look out for one of the Pirangi do Norte village's most famous attraction, which is said to be the largest and oldest caju tree - cashew nut in the world. Despite being centuries old it still manages to produce in excess of a ton of cashew nuts yearly - hence, Pirangi is well-known for caju rum.
A further great attraction of Ponta Negra is its huge waves; bringing many surfers to its temperate waters all year round.



Brazil Beaches - south of Ponta Negra
In the south end of Ponta Negra is Morro do Careca, an area consisting of a combination of sea, mountain and dunes. The very steep hill is the most famous landmark of Natal. The hill was once completely covered with lush vegetation and although climbing it is not allowed, this rule is not strictly observed evident by the well-worn path from the many visitors who have climbed it.
If you want to travel Brazil beaches, especially the more remote or deserted beaches of Brazil northeast, you will need to head further south of Ponta Negra. However, accessing them will be a major issue unless you hire a car or get a taxi.
Travel by bus from Natal's bus station, is restricted to only a few or so per day to villages in surrounding areas, so getting there will be a challenge. At worse, you could find yourself stranded for the night so it is best to check bus timetables at the local tourist office. In general though, buses tend to leave early morning.

Hotels In Ponta Negra Brazil

Visit Beaches In Brazil Northeast
Return From Brazil Beach To Brazil Travel Northeast Home Page