Samba Dance Brazil



Samba dance Brazil
The Samba is of the West African heritage of Brazil and has a lively, infectious rhythm and beat, both of which are intrinsically linked with carnival in Brazil.

  Capoeira Dancers Salvador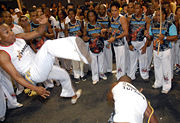 Samba music has been danced in Brazil since its inception in the 19th century. A set of dances, rather than a single dance is what defines Samba dance Brazil. For instance, Samba de roda, which is performed by many capoeira groups, is a traditional Afro-Brazilian dance that has been associated with capoeira - (a form of marshal arts dance).

A further major stream of the Samba dance besides the Brazilian Samba dancing styles, is Ballroom Samba which everyone is familiar with but is quite different to the former.



The birth of Samba Schools
Rio de Janeiro is now well known worldwide for the elaborate parades staged by the city's major samba schools in the Sambadrome. It is one of the world's major tourist attractions. In other regions such as Bahia and Pernambuco and throughout the rest of Brasil, Carnival takes on a unique regional feature.

  Brasil Carnival Parade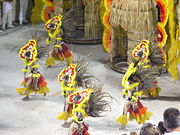 Yet, it was the Brasil samba dance and samba schools, with their Native American and African roots, which was to propel the Rio de Janeiro Brasil carnival onto centre stage when it was officially adopted by the festival back in the 19th century.
During the nineteenth century, the concept of groups of people parading through the streets, dancing and playing music was introduced. This practice progressed to themed, parades of costume- wearing participants over the years, alongside music groups and an entourage of followers to celebrate Carnival. These groups or samba schools - escolas and their followers, - known as blocos or blocks, were and are still today, representative of particular cultures, traditions or neighbourhoods.
In 1930, the President of Brasil brought the Samba dance Brazil schools into the mainstream. They were afforded official presedential recognition and a place of fundamental importance in the carnival festivites in Rio from 1930, thus heralding the birth of the Samba parade as it is known today.
As The street parades and neighborhood samba schools or escolas de samba were formed, they began to compete with each other in the 1930's; a practice that continues today, with fierce competition that would rival any top sporting event. Three samba schools performed that inaugural year: Estacao de Sa, Estacao, Primeira de Mangeira and Portela.

  Carnival Brazil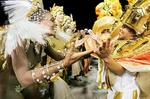 When in 1984, the Sambodromo - a permanent structure was built for the Samba dance Brazil parade, the carnival festivities moved from the streets into its new venue. To this day, the heart of the Rio Brazil carnaval festivities is in the Sambodromo on Sunday and Monday of Carnival.
Samba dance in Brazil, along with blocos, which are derived from samba schools, have therefore become a major element in the success and history of carnival in Brazil today. With well in excess of 100 different representations, each samba school will have its desnigated place in the samba dance Brazil parade. These parades will run for a duration of four nights in the Sambadrome as part of the official competition. One Samba school will be declared the outright winner for that year.
A tremendous amount of time, human and monetary resources is put into the dancers and each samba schools' entry into carnival. This is hardly surprising, given that Samba has become the lifeblood of carnival. However, while the main Samba schools are very large, well-financed organizations that work year round in preparation for Carnival, there are many smaller impoverished samba dance schools that work just as hard on far less.
If you Brazil travel northeast during carnival, look out for the street parties which are held by Blocos - followers of Samba dance Brazil schools. If the experience leave you with the Samba bug, there is absolutely nothing stopping you from joining one of the Samba schools, a few of which are often resident outside of Brazil in countries such as the US.
Carnival In Brazil
Carnival in Brazil is known as the festival of festivals. Rich in vibrant music, exotic costumes, dancing, drinking, the Brazil Carnaval is the world's largest celebration. Here are some precautions you must observe...
Brasil Carnaval
Brasil carnaval - 10 facts about Brazil during carnival, customs and traditions. Plus, where to find the best carnavals on your Brazil travel northeast, where you can participate, unlike in Rio de Janeiro where...
Brasil Carnivals in Bahia and Pernambuco States
Brasil carnivals - carnavals across Brasil take on differt flavours and influences. For a unique carnival experience on your Brazil travel northeast, head for Salvador in Bahia and Recife in Pernambuco for an experience you will never forget
History Of Carnival
History Of Carnival in Brazil is as dramatic as it is full of intrigue. Rooted in religious influences from Europe, carnival in Brazil today couldn't be further away from its beginnings as an event reserved for Rio's elite
Return From Samba Dance Brazil To Brazil Travel Northeast Home Page