Deputado Luís Eduardo Magalhães International Brazil Airport, Code: airport code: SSA is located in Salvador, Bahia and is approximately 20 km north of downtown Salvador. It is said to be the 5th most busy airport in Brazil, in terms of the number of passengers that pass through it.
Salvador airport has a long history, dating back to 1925 and even played its part in the war. Having gone through several changes of name, in 1955 it was christened -Dois de Julho but not for long, since it was renamed to Deputado Luís Eduardo Magalhães International in 1988. Howevever, the people of Salvador still refer to it as Dois de Julho.
In addition to domestic and regional Brazil air travel services, Salvador airport provide non stop international flights to:
Miami




Salvador airport had to undergo major renovations back in 2000, making it one of the most modern airports in Brasil today. Located within an area of natural beauty between sand dunes and vegetation, even the route to Salvador airport has become one of the city's main scenic attractions.






Guararapes International Brazil Airport Recife

The new Recife/Guararapes – Gilberto Freyre International airport in Brazil was opened in July 2004. Being the largest airport in the Brazil Northeast regions at 52 thousand square meters, Guararapes has expanded its capacity from 1.5 million to 5 million passengers a year.



  Guararapes Int Airport Recife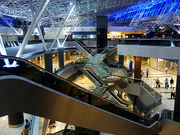 With the shopping leisure and shopping facilities having been radically updated, the Brazil airport of Recife has been transformed into a comfortable, high-quality service.
Recife has had the longest runway in Brazil Northeast since 2000, permitting the operation of jumbo jets such as the Boeing 747-400, which can transport 290 passengers including a vast amount of cargo. This has enabled flying non-stop to anywhere in South and Central America, Africa, United States, Canada and parts of Europe.
Domestic destinations from the Brazil airport Recife, include most major cities in Brazil, in additional to international flights to Paris, France, Lisbon, Portugal and Buenos Aires, Argentina.



Pinto Martins International Brazil Airport in Fortaleza
The Pinto Martins International Airport in Brasil is located in Fortaleza.
The new passenger terminal opened in 1998, was designed to have a useful life of 50 years. There are plans now underway for the new terminal to be integrated with both highway and railroad links.


Pinto Martins Int Airport Fortaleza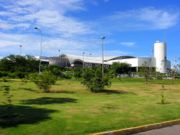 The airport has four levels with air conditioned passenger terminal. There is a basement level that facilitates parking for approximately 1000 cars and has automatic teller machines. In addition, there is a designated 'stop' for regular city busses.
Situated on the ground level, are checkin counters, airline offices, car rental agencies, a juvenile court bureau to facilitate travel of minors, special tourist information, a Civil Aviation Department (DAC) office, information counter passenger arrival area and access to taxi stops.
On the second level of Recife's airport in Brasil, there are shops, a food court, both domestic and international boarding lounges. On the top floor there is a beer garden with panoramic deck overlooking the airport's apron. The view is of the Fortaleza skyline.
The scheduled airlines that operate out of Fortaleza airport Brazil are Cabo Verde Airlines, TAM, Varig, Vasp and TAP. There are also frequent domestic and international charter flights to Brazil's Fortaleza airport.


Return From Brazil Airport To Brazil Travel Northeast Home Page